These are the proud owners of a certified Florida Water Star home.
Achieving program certification requires the coordination of multiple stakeholders. This manual provides a detailed description of the structure of the Florida Water Star inspection and certification process, and the responsibilities of all stakeholders. The following table shows the roles of stakeholders.
Florida Water Star Stakeholder Roles and Responsible Entities
Stakeholder
Role
Entity
Agency
Florida Water Star program maintenance
St. Johns River Water
Management District
Administrator
Project application review, inspection, final certification decision
Triconic, LLC
Applicant
Meets all applicable certification criteria
Builder, developer, homeowner
Inspector
Application documentation review, project inspection, verification of compliance with Florida Water Star criteria, and coordination with the administrator regarding final certification decision
Florida Water Star inspector
Accredited Professional
Design and installation of Florida Water Star landscape or irrigation system
Landscape or irrigation professional who has voluntarily attended training and passed an Accredited Professional Exam
Technical Advisory Committee (TAC)
Interprets innovation points, variances, and criteria changes
Members chosen by agency
Stakeholder role summary
Applicants
Applicants are typically the builders, developers or homeowners seeking certification of their project(s). They are responsible for ensuring that their projects meet all relevant Florida Water Star criteria. The applicant must abide by the Portal conditions. When constructing Florida Water Star-certified homes where local building construction codes and ordinances have requirements more stringent than Florida Water Star, the applicant is aware that the more stringent requirements shall be met.
Inspectors
Inspectors must be Florida Water Star-accredited, which requires the completion of mandatory training, an apprenticeship and a successful score on a comprehensive exam of the Florida Water Star program. The inspector's primary responsibility is to verify that the project meets all relevant Florida Water Star criteria, through review of project documentation submitted by the applicant and an on-site inspection of the project. The inspector only submits projects that meet minimum criteria for certification.
Administrator
As of Feb. 1, 2018, Florida Water Star is part of the FHBA Certified Ratings Program administered by Triconic LLC. As the administrator, all Florida Water Star projects are now being processed through their Portal.
Triconic works behind the scenes to provide the certification infrastructure for the Florida Water Star program. Their team of professionals is taking Florida Water Star to the next level as it expands. For more information, please click here.
Certifier
The certifier partners, UL (Underwriters Laboratories and Intertek, provide third-party quality assurance. Participants can choose to work with one or both of these internationally recognized leaders in the industry.
The certifier (UL (Underwriters Laboratories) and/or Intertek) reviews the details of the project to ensure applicable Florida Water Star criteria are met, and, if so, issues final certification. The applicant then receives a Florida Water Star certificate from UL or Intertek through the Triconic Portal.
Agency/Program Owner
The agency, which is the St. Johns River Water Management District, owns all rights to the Florida Water Star program content. The St. Johns District is responsible for evaluating program effectiveness, modifying program content for improvement, and developing all training and technical materials.
Accredited Professionals
Accredited professionals (APs) are landscape or irrigation professionals who have chosen to attend training, take and pass an exam administered by the Florida Nursery Growers and Landscape Association. APs are qualified to design or install a landscape or irrigation system for a Florida Water Star project. Although not required, working with an AP can increase an applicant's ability to achieve certification.
Technical Advisory Committee
The Technical Advisory Committee (TAC) is responsible for providing technical interpretation of criteria, innovation credits, variances, and other issues on a case-by-case basis, as necessary. The agency will initiate TAC review, as needed, and will use the TAC's recommendations to make a final determination of course of action.
Three forms of certification
Florida Water Star certification can be achieved for any of three types of development/construction (see the following chart).
Types of Florida Water Star Certification
Certification
Description
Residential

Certification of new or existing residences in two tiers — Silver or Gold.
Criteria are met, and points are achieved for Gold certification.

Commercial/
Institutional

Certification of new or existing commercial facilities.
All requirements are prescriptive, and no points are involved.

Community

Certification of a planned community.
All residences are certified as Florida Water Star Residential.
All common areas must meet Commercial/Institutional requirements.
Certification can be sought for new and existing structures. (Note: Residential Florida Water Star certification also requires achieving minimum points for Gold, in addition to meeting the criteria.)
A separate document, the Technical Manual, provides clarification and direction on the Florida Water Star program criteria, including the intention and technical details for all program criteria.
Applicant responsibilities
Role of applicant
The applicant is responsible for meeting the requirements of the applicable Florida Water Star certification. These requirements include the following:
Providing information and documentation necessary for verification of criteria for certification
Cooperation in the inspection process of structures submitted for certification
Commitment to the applicable program criteria by adhering to your company's quality control procedures (in accordance with ISO 17020).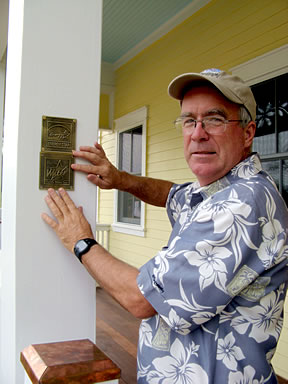 Inspector responsibilities
Role of the inspector
The inspector's primary responsibility is to verify that the project has met the applicable Florida Water Star criteria. The inspector reviews the applicant's submission for compliance with the program, completes the inspection, maintains inspection records according to ISO 17020, and submits the project to the administrator for certification.